Alternative Flooring Rugs
Alternative Flooring not only offers great Carpets & Runners but a wide selection of rugs. The Alternative Flooring Rug collection provides the same beautiful designs and materials found in their selection of carpets and runners such as animal prints and eye catching striped designs. The real beauty of the selection of rugs by Alternative Flooring is that they are all customisable. For a truly unique and one of a kind rug you can create your own rug by selecting the size, borders, colours and materials.
Alternative Flooring
Carpets, rugs and runners may sound like the traditional choice when it comes to flooring, but Alternative Flooring has turned these age-old options for your floors into something entirely new and innovative. Stunning designs, unexpected textures and rich tones come together to give you something that little bit different.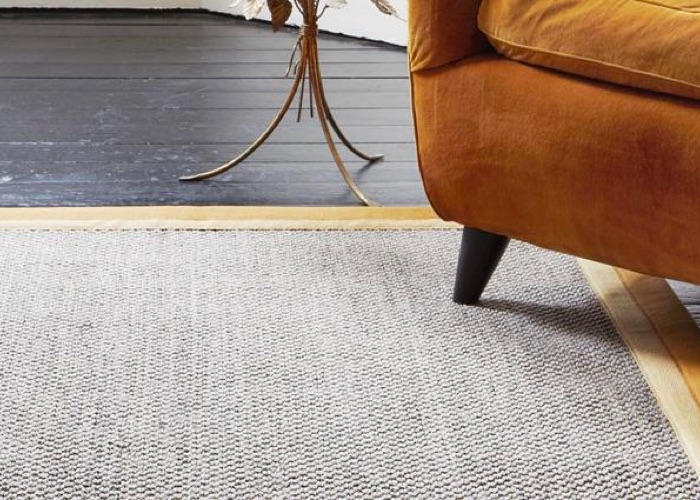 Here's what makes Alternative Flooring an option well worth considering for your home
Unusual materials
While British born and based, Alternative Flooring scours the globe for inspiration and materials, using seagrasses from the coastal regions of China and Vietnam, Mexican sisal and Indian coir and jute.
Ethical sources
All materials for Alternative Flooring carpets, rugs and runners come from sustainable and ethical sources. Wherever possible they are also entirely natural and renewable.
Kooky designs
The eye-catching carpets and runners produced by Alternative Flooring uplift any room, bringing it to life by injecting colour and adding style through innovative design.
British made
All carpets and runners in the Alternative Flooring Quirky range, stocked at Jim's Carpets, are designed and made in Britain. They include fun creations by select British interior designers and feature geometric, polka dot, honeycomb and even zebra print patterns.
Handwoven and undyed
Alternative Flooring offers wool carpets that are kinder to the environment as they are not dyed. This does not limit your choices as you can select from a range of beige, sandy, brown and earthy tones. Some carpets in this collection are handwoven onto cotton base layer for a carpet that is as individual as its owner.
Sought after
Alternative Flooring have made quite the name for themselves in the 20 years since they launched their business, with the likes of textile artist Margo Selby, interior designers Ashley Hicks and Ben Pentreath and luxury retailer Liberty Fabrics all collaborating with them. From texture-rich wool carpets for indulgent comfort underfoot to the weaved patterns of coir, jute, sisal and seagrass carpets for high traffic areas, Alternative Flooring takes the idea of traditional carpet and turns it on its head.
Learn more about their incredible collection and see what suits your style
Visit us in store or get in touch today
Get in touch