Brink & Campman
Brink and Campman has been creating quality rugs for well over 100 years and their experience shines through in every design and product they offer. One of the reasons they've built such a great reputation is the perfect balance they strike between modern production processes and genuine craftsmenship.
Using a range of materials they have developed in-house means you get long-lasting yarns and true comfort, while their keen eye for art has allowed them to develop a fabulous collection of beautiful colours and unique designs.
For designer rugs that promise quality, expert craftsmanship and style, there is Brink and Campman, rugmakers since 1897. This Dutch brand balance modern production processes with dedicated craftsmanship resulting in stunning, vibrant designs. Over 100 years of innovation and experience mean Brink and Campman have mastered the art of rug making.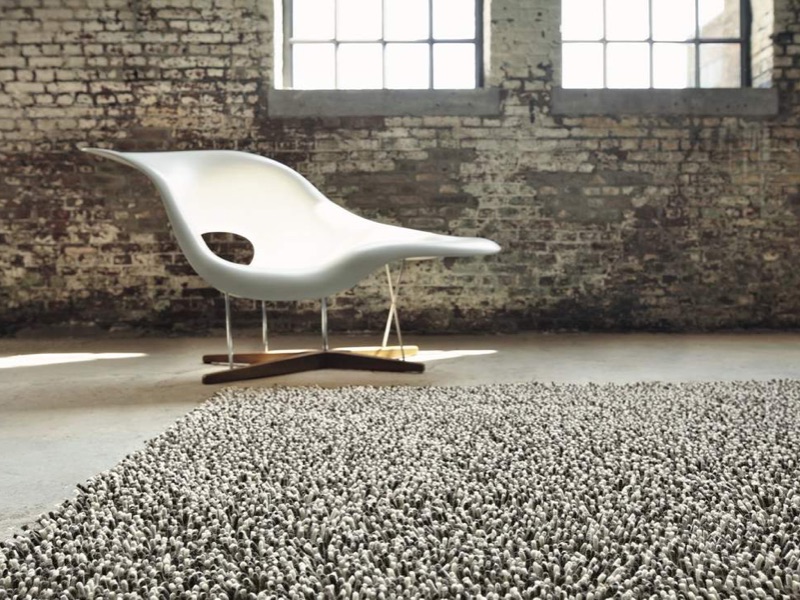 Stone
Using a robot tuft technique, the Stone collection is as its name suggests – multicoloured spools of wool transformed into designs that have the appearance of tiny pebbles, available in a variety of colours, from conventional browns and greys to eye-catching purples, greens and reds.
Estella
This collection offers colourful, hand tufted wool rugs, with viscose yarns highlighting particular elements of the diverse patterns available. You'll be spoilt for choice with everything from modern floral designs, stripes and squares to psychedelic waves and abstract shapes.
Kashba
This handwoven collection employs the flatweave technique resulting in a look that resembles the traditional Kelim rugs of the Persian empire and Turkic Central Asian countries, with rich colours and bold designs.
Yeti
Yeti rugs are made in Nepal and India using a traditional handknotting technique, often using plain wool yarns for a natural look that is incorporated into modern designs.
Bluebellgray
The Bluebellgray Collection by Brink and Campman were the pioneering products for digitally printed wool rugs. While synthetic materials had previously been used, these experts have taken printed rugs to a whole new level by perfecting a technique that works on wool. Bluebellgray's well-loved watercolour designs have been perfectly recreated with the free brushstrokes of the floral and abstract images wonderfully translated onto wool, and in a palette that will add a gentle and elegant look to your home. These Axminster woven rugs are a real quality indulgence.
Harlequin
Brink and Campman has teamed up with the fabulous wallpaper and fabric specialists at Harlequin to deliver a stunning collection of pure wool rugs. The nine incredible designs, including Strata, Accent, Soleil and Enigma, have been weaved using specially developed techniques for your comfort and to ensure great performance. Working well with a whole host of Harlequin products, or simply as a colourful statement piece to bring to life a more modern and sleek interior, choose from three standard rectangular sizes or create your own custom size to suit your space.
Morris & Co
For fans of the Arts and Crafts movements, these Morris & Co designed rugs by Brink and Campman are the perfect statement of style. This collection of beautifully made 100% wool rugs have been adorned with 5 of the most iconic designs by these textile masters, in a variety of different colour options. This delightful collection can be paired with the wallpapers and fabrics of the same designs by Morris & Co, or you could simply use them to creating a charming and welcoming centrepiece in your favourite room.
Sanderson
The name Sanderson is synonymous with gorgeous, inspirational textiles and interior accessories – but now, thanks to the rug-making expertise of Brink and Campman, you can also enjoy their artistic endeavours on your floor too! Made from 100% pure wool these Axminster rugs carry some of Sanderson's best floral designs, such as their pretty poppies and dazzling dandelions – a welcoming and warm injection of colour and class that will brighten up your room and add a touch of extra comfort.
Scion
If you're looking for a rug that will inject a bit of fun, colour and excitement into your life, then these awesome pure wool rugs by Brink and Campman will do just that – thanks to the vibrant designs by Scion. From geometric and abstract styles, to colourful nods towards nature and of course the fantastic 'Mr Fox', we're sure you'll find the statement that works for you and your home right here. There hand-tufted rugs are the same high quality you'd expect from these masters of woven wonders, and you can choose from three standard sizes or a made-to-measure service.
Ted Baker
If we mention Ted Baker, you'd be forgiven for thinking that we've got our designers mixed up, as it's a brand much better know for fashion than rugs – but marry the two and you end up with this stunning collection, designed by Ted Baker and brought to life by the craftsmen and women at Brink and Campman. Made from stunning luxury yarns that offer a quality finish and fabulous performance, the inspiration behind the designs was a small piece of tapestry that was found in the mountains of Siberia. Choose your size or have a custom sized rug created just for you.
In addition to these iconic Brink and Chapman ranges, this rugmaker has collaborated with other leading brands to produce even more exceptional designer rugs stocked here at Jim's Carpets. Collaborations include those with:
Textile and wallpaper retailer Sanderson – these Axminster rugs feature their most stunning floral designs, such as pretty poppies and dazzling dandelions
Bluebellgrey – these digitally printed wool rugs showcase their elegant watercolour designs
Scion – a collection of fun, colourful rugs with geometric and abstract designs
Textile masters Morris & Co. – pure wool rugs inspired by the Arts and Crafts movement
Wallpaper and fabric specialists Harlequin – a range of modern, sleek designs brought to life in these colourful, pure wool rugs
Fashion retailer Ted Baker – a collection of rugs inspired by a piece of tapestry uncovered in the mountains of Siberia.
Variety is an understatement when it comes to the rugs created by Brink and Chapman.
To find out more about our Brink and Chapman designer rugs
Get in touch with our flooring experts
Get in touch