Kronoswiss
Beautifully engineered and designed, Kronoswiss laminate flooring has been rigorously tested against scrapes, scratches, impact, staining, fading and even burns so when you buy Kronoswiss, you buy with complete confidence knowing that quality and longevity have been well established. In addition to high performance, you can also be sure of fantastic choice. From contemporary styles to more traditional colours and finishes and textures that are tactile to the touch. For easier installation, you can also choose from a range of plank sizes too.
Kronoswiss
Kronoswiss encapsulates the best of Swiss technology and innovation with its hardwearing, durable laminate flooring. Rigorous testing means their laminate wear layer is second to none, which combined with their contemporary styles makes for the ideal flooring in both homes and commercial settings.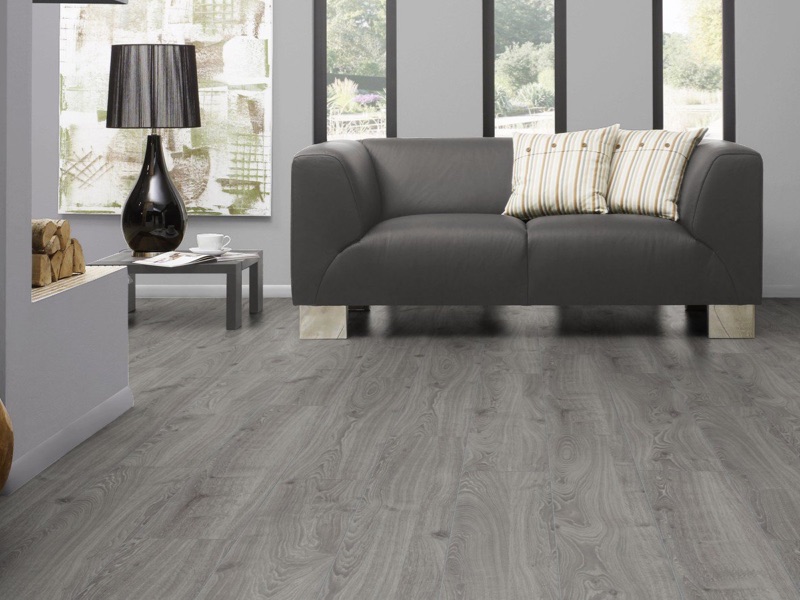 The Kronoswiss laminate wear layer is built to last and has the following 5 features
Scratch resistance
You can walk all over Kronoswiss laminate in heels, boots or football shoes without leaving a scratch. Pull up a chair to take a seat and you needn't worry about scuffing its scratch resistant surface.
UV resistance
Over the years your floors will be exposed to bleaching sunlight but with Kronoswiss laminate flooring, the colour of your floors will be as vibrant as the day you had them fitted thanks to its UV resistance, which prevents fading. So if you decide to move the furniture around, you won't be left with unsightly furniture-shaped patches on your floors.
Stain resistance
Wine, tea, coffee and other unexpected spills won't stain your Kronoswiss laminate. Even marker pens can be removed with a bit of cleaning.
Blaze resistance
Drop a lit cigarette on vinyl or wood floors and it's likely to leave a mark within a few moments, but not so with Kronoswiss laminate.
Wear resistance
A robust wear layer makes Kronoswiss laminate incredibly resistant to abrasion, as denoted by its AC5 rating, which is the highest AC rating you can get.
For the look of traditional hardwood but the engineering of modern laminate, choose Kronoswiss.

To find out more, get in touch with our flooring experts at Jim's Carpets

Get in touch
The look and feel
At Jim's Carpets we're proud to stock 20 different Kronoswiss wood laminate styles, all of which are part of their Grand Selection. Every 12 mm plank in each style has an embossed surface for an authentic hardwood feel that compliments the highly realistic limed oak and walnut finishes.
The installation
Kronoswiss laminate flooring is quick and easy to install using a simple fold-down click system.
The upkeep
Aside from the usual regular sweeping and mopping, over the years there is little upkeep for these laminate floors. Unlike hardwood floors, there is no need to wax, polish or sand them to keep them looking good.
A commitment to sustainability
Behind all of this innovation in design, from the wear layer to the look and feel, is a dedication to sustainable production. Kronoswiss recycles wood to produce energy for their production processes, on top of using FSC certified timber in all of its planks.