Kronotex
For some of the most realistic stone and wood effect laminate flooring products on the market today, look no further than Kronotex. The number of available styles and finishes is incredible, so whether you're looking for the finishing touch for a commercial property or a relaxing residence you won't be disappointed with this collection. From shiny gloss to muted matt, tile-look or traditional oak, or even a more colourful and creative flooring, Kronotex has got it covered.
With a high percentage of natural wood of 90%, you can also feel confident in this laminate's eco-credentials, enjoying the aesthetics and durability while being sympathetic to the environment too.
If you're looking for a stone and wood effect laminate flooring for your home or business, then look no further than Kronotex. This German brand was established in 1993 and is renowned for producing high-quality laminate flooring suitable for pretty much anywhere – living rooms, kitchens, bedrooms, you name it. It's also widely used in commercial premises and has been fitted in offices and hotels all over the world. No matter what type of look you are hoping to achieve, the variety within each Kronotex collection will ensure there will be something to suit your creative need.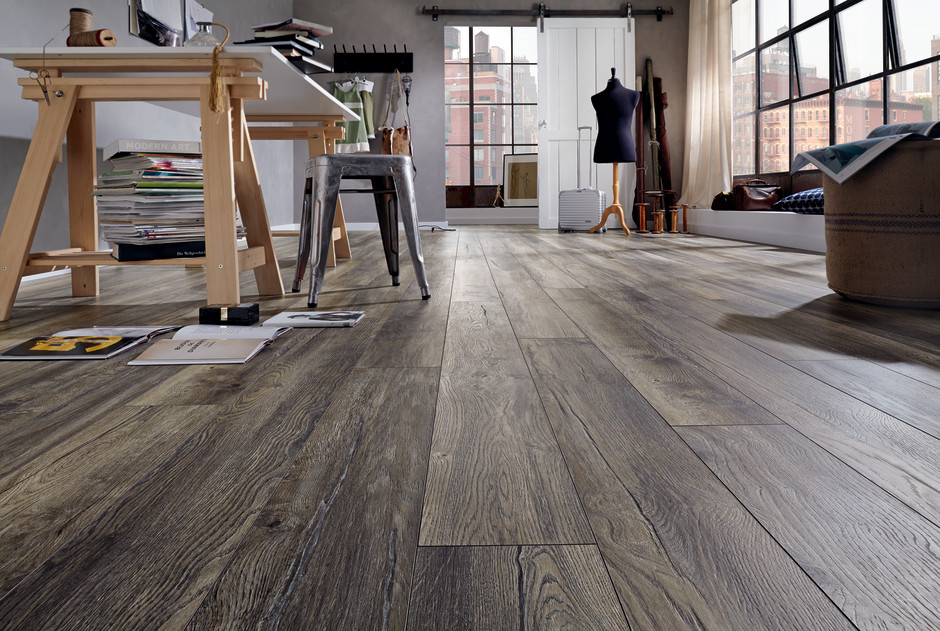 Mammut
The Mammut range is associated with quality and is perfect for those high traffic areas such as entrance halls and living areas. Using extra hard, extra long panels, Mammut is not only durable but able to withstand heavy use. However, just because this flooring is defined by its practicality, the selection of designs and tones within this range will still give you the natural look you're after, in an elegant and sophisticated style.
Robusto
As the name suggests, this flooring is strong, hard and certainly tougher than your average laminate. When there are extreme stresses to deal with such as in high traffic, commercial environments, this 12mm thick, highly compacted fibreboard core, with its highly resistant surface, is the perfect solution. The tongue and groove installation means that the individual flooring panels can be easily and quickly placed together with minimum fuss.
Amazone
If having practical, yet aesthetically-pleasing flooring is most important for you, then Amazone is the floor for you. This exquisite flooring comes with long, slender panels to create a graceful look. Amazone is ideal for maximising space, as the panels give the illusion of the room being much larger.
Take the next step
If you're looking for a reliable alternative to stone or hardwood flooring but do not want to compromise on style, then Kronotex flooring is the smart choice. Not only that, it's great for the environment and comes at an attractive price. Contact us or pop in to have a look at our beautiful collection.