Karndean Design Flooring
At Jims Carpets we have an extensive range of Karndean Flooring. If you need any advice, or have any questions about our Karndean Range, please do not hesitate to call us on 0113 831 4312 and we will be happy to help you any way we can.
We are based in Kirkstall, Leeds so if you would like to see the flooring, or view any other ranges, visit us in store.
If you are looking for a luxury vinyl flooring that looks like it has been crafted from natural materials then Karndean Design Flooring is exactly what you need. It is easy to clean, maintain and can handle any level of use. From light domestic, to heavy commercial and retail foot traffic, Karndean Flooring is suitable for all.
About Karndean
Karndean is still a family run business, 40 years on from its inception. It's customers benefit from the same core values and standards of quality and service that first earned them their good name. Karndean Flooring literally hundreds of different finishes, colours and designs. Not only does it come with a lifetime guarantee, but because this innovate vinyl flooring comes in planks or tiles, any areas of damage can simply be removed and replaced.
When it comes to luxury vinyl flooring, there is one brand that stands out from the rest when it comes to high-quality and style: Karndean. Established over 40 years ago, this UK based company are one of the world's leading manufacturers of luxury vinyl flooring.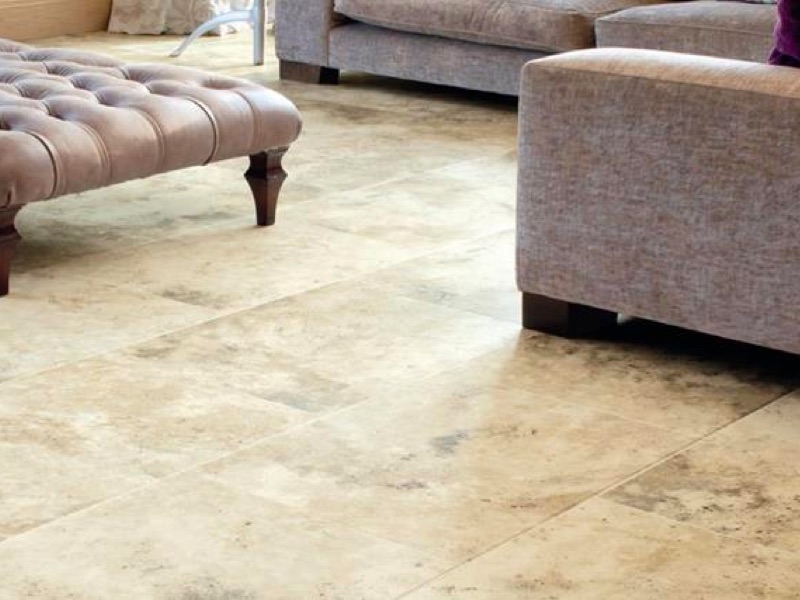 So whether you're looking to create a space that is traditional or modern, a work or home environment, the huge array of styles Karndean offer mean that you'll have a fantastic selection to choose from.
A stand out vinyl
So what is that makes Karndean one of the most popular brands of luxury vinyl flooring? Well, firstly you are guaranteed the authentic look of wood or stone – but with the added benefit of having the easy upkeep of luxury vinyl. When you step into a room with Karndean underfoot, many people are often fooled into thinking they are walking on solid wood. The clever use of colours, textures and finishes creates the illusion that this is the real thing. But at a fraction of the cost of real wood.
The different types
There are two different types of Karndean flooring; click vinyl plank and click vinyl tiles. Which one to go for depends on the look you want to achieve.
Karndean clic vinyl plank
Karndean planks come with a tongue-and-groove click system, making them very hard-wearing. They are fitted in a much the same way as traditional wood flooring planks, but tend to give a more professional, high-quality look overall than classic vinyl rolled flooring. The overall wood effect that is given by vinyl planks provides you with a cost-effective, but expensive looking finish.
Karndean clic vinyl tiles
As the name suggests, vinyl tiles look just like regular stone or ceramic tiles, but with many additional benefits. Similar to the clic vinyl planks, they come at a significantly reduced cost, but look just as good as the real thing. Traditional stone or ceramic tiles can take a long time to install, but vinyl tiles can be installed much more quickly. Every tile is waterproof and coated with PUR treatment, which makes these tiles the ideal choice for your bathroom or kitchen. They are also compatible with underfloor heating which is a real treat for the feet, particularly in the colder months.