Elka Wood
Elka wood flooring comes in solid wood or engineered formats offering a choice if you have varying requirements for your installation. Easy to lay and built to provide a beautiful finish for years to come, we have a great selection of  Elka collections, with a wide variety of depth and finishes to suit all tastes.
For a warm and authentic finish, Elka solid wood flooring offers stunning grains and textures that work well in traditional interiors or to add character to more contemporary surroundings. For high traffic areas that need the most durable solution possible, their engineered range may well be worth a look.
Are you looking for engineered or solid wood floors for your home? With Elka you'll find both available in a range of styles, colours and finishes. Both options offer easy installation for avid DIY fans.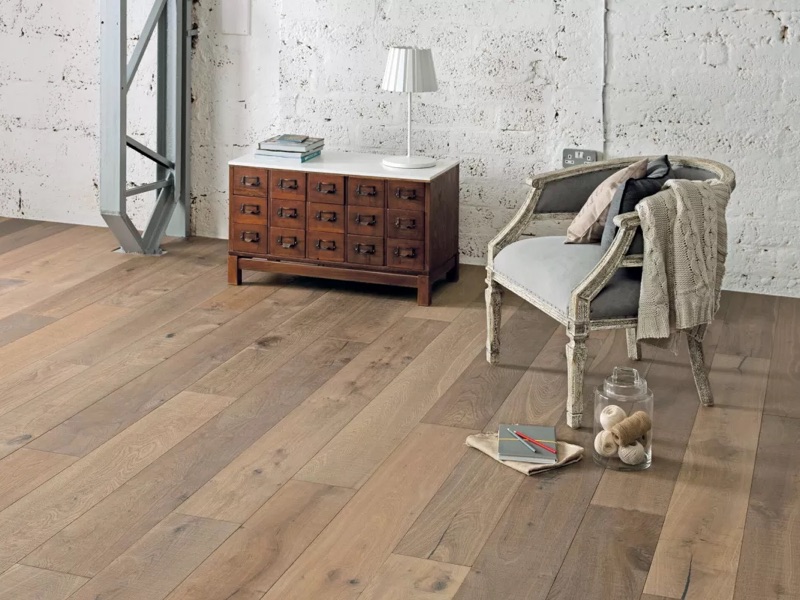 Elka solid wood floors
Every plank of solid wood flooring is completely unique and sets the tone of any room, adding character and ambiance. Elka's European Oak solid wood floors come in several shades, from the dark hues of rustic antique lacquered oak, to the lighter tones of golden oak. For classic wood flooring that you can sand down and refinish time after time for a new look whenever you fancy, choose Elka solid wood floors.
Elka engineered wood floors
For floors every bit as durable as solid wood floors but with greater stability in shape in the face of changing humidity, engineered wood floors are the way to go. In fact for high traffic areas, engineered wood floors are preferable. Elka engineered wood floors are made of at least 3 layers of wood, including an upper layer of hardwood. Layers are stacked in opposite directions, giving each plank superior strength. This means they can be used with underfloor heating and in areas more exposed to changes in weather, such as conservatories. The range of colours available is expansive, from nutty brown lacquered American black walnut to honey-coloured Dutch design oak.
A word on the wood
Whichever Elka floor you choose, solid wood or engineered, you can rest assured that Elka strives to have minimal environmental impact when sourcing it's wood, wherever possible adhering to the Programme for the Endorsement of Forest Certification® (PEFC). In cases where wood for their flooring is not certified, Elka selects from sustainable sources. With 30 different Elka wood floors to choose from at Jim's Carpets, we're certain you'll find what you're looking for. Once you've made your pick, we offer the additional service of fitting your Elka floors for you.
Find out more about our Elka wood floor collection
Visit us in-store or get in touch with our flooring experts
Get in touch