Quick-Step Engineered Wood
Quick Step Hardwood flooring comes with their patented and world renowned Uniclic Multifit click system. With this unique installation design you choose to do it yourself or ask our installation team to help, it can be fitted quickly and easily and with no compromise on quality.
Another great benefit of Quick Step Hardwood flooring is that it's already treated which means that when installed its ready to withstand a busy space. No sanding or finishing, just move your furniture back in and you can start to enjoy it straight away. The wood used is also ecologically sourced and their products come with up to a lifetime warranty as well as an incredible choice of colours and effects, finding the perfect flooring for your home couldn't be easier.
Quick-Step flooring is a major player in the flooring industry and the origins of the company can be traced back to the 1960s. The brand has long been associated with innovation, including coming up with the unique 'Uniclic' system. They have a strong focus on quality, with all their flooring providing a high level of resistance against heavy use.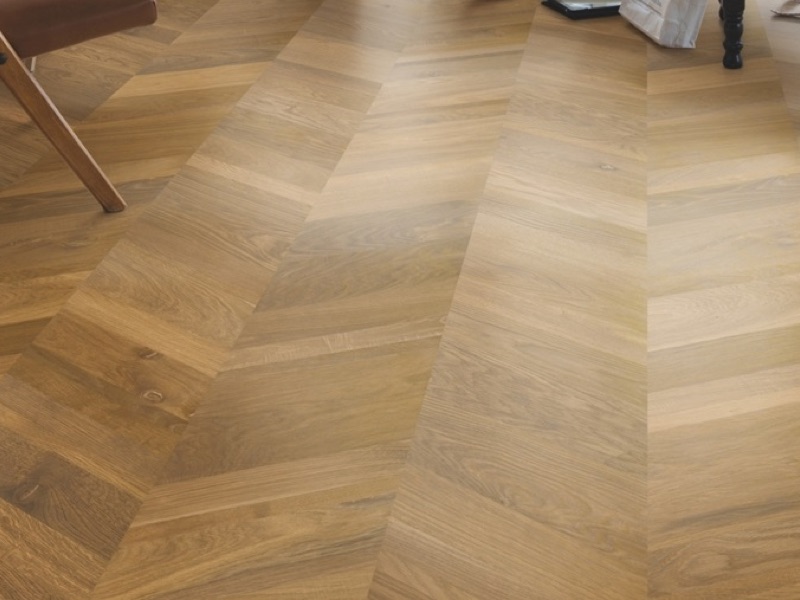 Uniclic
In 1997, Quick-Step came up with the revolutionary idea of installing laminate by clicking the planks together – thus dispensing with the need for glue. This idea had a huge impact on the flooring industry, cutting down the time it takes for fitting laminate flooring and making the process much easier. This click system has been patented around the world and the ease of installing ensures that these stunning floors will provide many years of beauty in your home or workplace.
Laminate
Quick-Step laminate is the ideal choice if you are looking for something to provide high level resistance against heavy use. Even after years of substantial foot traffic, this laminate is designed to maintain its top quality appearance. And if you're after laminate for your bathroom or other room which is likely to come into contact with water, Quick-Step also comes in a waterproof range.
Vinyl
Stepping foot on Quick-Step vinyl is a pleasurable experience. From the moment your foot touches the floor, it feels soft and warm and any noises such as boots, heels, babies crawling or pets walking around are minimised. The protective top layer is water, scratch and stain-resistant and as with the laminate, is easy to install.
Wood
Real wood flooring adds a natural charm to any room and with the Quick-Step range of gorgeous engineered wood flooring there is something to suit every style. Choosing wood flooring is, environmentally, a great choice to make and will also add value to your property – making it a great long-term investment.
Extraordinary value and style
Quick-Step carry out research on an ongoing basis in order to stay at the cutting edge when it comes to innovation and technology and it's this passion which ensures they are continually one of the top flooring brands around.